drama
Presumed Guilty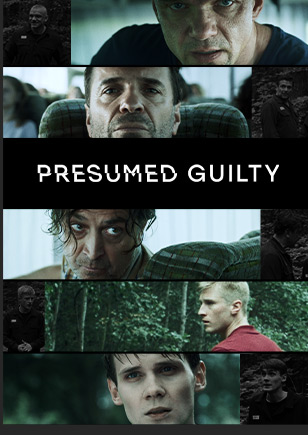 Five convicts are being transported for retrials. One of them is a hardened career criminal, a murderer. He's accompanied by a disgraced oligarch, a young hijacker of luxury cars, a man convicted of murdering his partner in a fit of jealousy, and a serial killer of women. The prison truck crashes and the convicts have to get on the run. The jailbird kills the chief of the guards, leaving his companions with no other choice.

The security services are fast on their trail, but the convicts have already escaped. They hijack an intercity bus full of passengers and use it to try and get to Moscow in order to disappear in its bustling crowd.

A tried-and-true hostage-taking narrative takes unexpected, dramatic turns. Plagued by his inner demons, the jailbird proposes they hold retrials right in the bus. The criminals tell their stories to their unwilling companionsб so they could decide if they're guilty or not. The passengers judge the criminals, and vice versa. The characters' stories gradually unfold, intertwine and coalesce into a coherent pattern. The clash of worldviews, circumstances and beliefs bring to life a Biblical truth: the ability to admit to your mistakes, understand and sympathize with the mistakes of others is the cornerstone of any moral principles.

The Biblical motives woven through the narrative are highlighted by one of the passengers, a young blind woman. In a charged atmosphere of the hijacked bus, she sits listening to the Bible in her headphones, making the viewers associate the bus and its passengers with Noah's Ark, carrying people of all «species» and all walks of life. But instead of the promised land, that ark moves inexorably toward a disaster. The security services are planning a rescue operation, and sparing the criminals is not on their agenda.

The series has good adaptability potential. Despite a large cast of characters, they all remain distinct to the viewers, and each storyline is uniquely memorable. The series has no absolute heroes or villains. The characters' stories, organized around the plot that moves at a breakneck pace, are universal and relatable to the viewers of various cultures. Love stories, clash of the generations, coming of age, taking responsibility for sins and mistakes of your past, those are all the issues that move people regardless of their race or ethnicity, age or gender. The series' plot is flexible and can be adapted freely allowing for a change of some storylines or their number, as producers see fit. The format is memorable and full of drama; it could easily become a crown jewel of any product range.