talent show
Superstar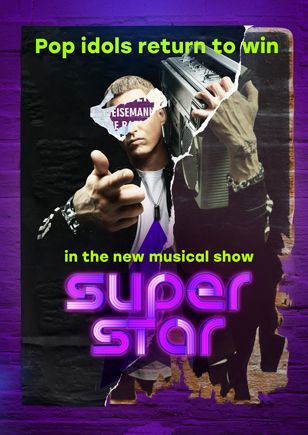 In this hot unscripted format faded stars from the past shine again! Mega popular singers from the 90s and 00s come back on stage to compete with each other and to win new fans. They are judged by modern-day superstars. Peppered by nostalgia from favorite oldies and colored by brilliant performances that dazzle the audience, the show amazes and entertains. The sharp contrast between the participants — all former superstars — and the judges — new mega-stars — adds conflict, drama, and dynamics that audiences crave so much.

In addition to showcasing their talents, the contestants are sharing deeply personal stories covering their love life, grave illnesses and struggles with obscurity.

Each episode revolves around a new theme. The contestants are tasked with performing their biggest hit, adopting a new genre and persona, covering a recent hit song and reinventing a classic hit known to all. The judges evaluate the participants using a simple system — each contestant can either receive the highest mark of fire (2 points), the middle one of a sparkle (1 point), or the lowest one of smoke (0 points). The contestant with the top score by the end of the season wins.

The show's format allows for great flexibility — a guest juror changes from episode to episode, adding mystery and drama to the judging process. The permanent jurors' mix is also quite colorful: there's a 'bad cop' music critic, a 'good cop' music producer, and (a bit) na?ve young celebrity singer. The judges are all celebrities themselves and they don't hold back their harsh criticism or praise, keeping the audience guessing. This format is sure to appeal to all international audiences who love great music, mesmerizing shows and tense competition!